Carleton Place is a small, country town located inbetween the towns of Almonte, Smiths Falls, Perth and of course Ottawa. It is a town full of hockey fans. Everybody knows everybody in Carleton Place and that is why everyone loves it here.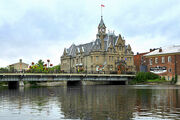 Hockey Teams
Edit
Carleton Place being a hockey town has a team for every age and ability.
The top team is the Carleton Place Junior A Canadians who are the 2013-14 Bogart Cup Champions. During the hockey season, the many fans of the Carleton Place Canadians gather to watch and cheer the boys on. They are a major league team and are part of the CCHL, a feeder league to college hockey, university hockey and even NHL hockey.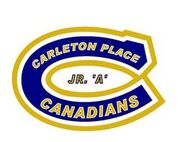 There are also some competitive leagues for the youth of Carleton Place with great skill. For the boys there is the Mississippi Thunder Kings (MTK) and the Sliver Seven Program. They are the feeders to Junior A and B hockey. There is also the Ottawa Valley Titans, a competitive team for boys located in Ottawa that many boys go to. And the skilled girls play with the Lady Sens in Ottawa.
Also, there are teams for kids who love the game but aren't the best at it. If you have the passion but not the skill, you play for the Carleton Place Kings or the Carleton Place Cyclones for girls.
Lasty, there are a few senior teams for the older men of Carleton Place.
Attractions
Edit
Carleton Place has many historical attractions, nature attractions and sporty ones.
There is the Canada Veteran's Hall of Valour, The Victoria School Museum, The Roy Brown Museum, The Dragon Boat Festival, A variety of local parks and nature trails, the farmers market, the canoe club, the curling club and of course the Arena. And for the teenagers out there, the annual Beach Bash and Canada Day parties in Riverside Park. 
Arklan Community Public School
Beckwith Public School (located in the Township of Beckwith)
Caldwell Street Public School
Calvary Christian Academy (located in the Township of Beckwith)
Carambeck Public School
École Catholique J.L. Couroux (French Catholic)
Mississippi School for the Arts (private high school)
St. Mary's Catholic School
St. Gregory's Catholic School
T R Leger Alternative
Ad blocker interference detected!
Wikia is a free-to-use site that makes money from advertising. We have a modified experience for viewers using ad blockers

Wikia is not accessible if you've made further modifications. Remove the custom ad blocker rule(s) and the page will load as expected.